90210 promo!
---
Ändrade lite på bloggen
Japp en ny design vad tycker ni?jag älskar den!Fast undrar hur jag kan göra menyn lite bredare?
---
New events with Shenae & Jessica Lowndes
En svart klänning med guldigt skärp och svarta korta stövlaroch en blommig kofta.
Övrigt:Väska
Tycker de är lite för mycket.
Skinjacka med (guldiga) nitar och svart byxa upp till navlen och svarta skor och en väst.
Övrigt :En långsvart väska
Inte fint alls...
---
Jessica stroup for warriors in pink
---
90210 webclip
Bättre version
---
Jessica Stroup talks "Teddy"
---
Bilder från avsnittet ''what's past is prologue
---
90210 Clark Raving Mad trailer
Wow haha lääängtar
---
Webclip for 2.15
---
Episode stills
---
Live Chat with 90210's Michael Steger at TV.com
On Tuesday Mar. 23rd at 3:00pm PT (6:00pm ET), please join TV.com in a live Q&A chat with 90210 star Michael Steger!
Make sure to be part of this amazing opportunity to chat with 90210 star Michael Steger!!!
---
90210 Trailer – What's Past Is Prologue
Vet att  jag ej har bloggat så mycket påden bloggen för är upptagen med min andra
blogg
men ska försöka.
Kollade på Girl fight häromdan och älskade avsnittet n ;) men silver o teddy som är tillsammans nu YIIPI haha
---
Jessica Lowndes @ OK! Magazine 2010 Pre-Oscar Cocktail Party
---
SPOILER 90210″ webclip for Rats & Heroes
NEE du ska inte vara med SILVER!!!
---
FIRST LOOK: Jessica Lowndes and Rumer Willis Kiss on 90210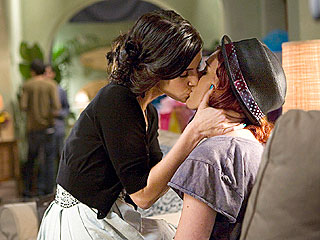 For anyone missing those frisky Beverly Hills teens, 90210 will return with a hot new relationship!
Romance will bloom for Adrianna (Jessica Lowndes) and Gia (Rumer Willis) as the two support each other in AA meetings, bond over old movies and share a kiss, all while Adrianna tries to rebound from her breakup with Navid (Michael Steger).
"Adrianna and Gia share a special bond," Lowndes tells PEOPLE. "My character starts questioning whether or not sexuality is measured on a spectrum, if it's black and white or if it comes down to who you connect with and who you are compatible with. I'm excited as an actress to tell the story."
Lowndes is also excited to share her voice on the show. Gia will get Adrianna to try out for the lead singer position in The Glorious Steinems, and all-girl band at West Beverly, and all the singing is done by Lowndes herself!
90210 returns March 9 (8 p.m. EST) on the CW.
---
90210 nya bilder Spoiler!!
---
Tävling
 tävling !!! hos lina
Tävlingen avslutas söndag den  14 mars så var med o tävla.
---