FIRST LOOK: Jessica Lowndes and Rumer Willis Kiss on 90210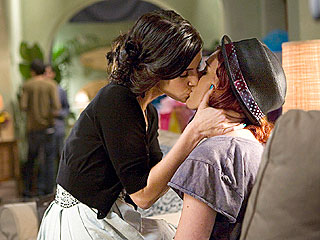 For anyone missing those frisky Beverly Hills teens, 90210 will return with a hot new relationship!
Romance will bloom for Adrianna (Jessica Lowndes) and Gia (Rumer Willis) as the two support each other in AA meetings, bond over old movies and share a kiss, all while Adrianna tries to rebound from her breakup with Navid (Michael Steger).
"Adrianna and Gia share a special bond," Lowndes tells PEOPLE. "My character starts questioning whether or not sexuality is measured on a spectrum, if it's black and white or if it comes down to who you connect with and who you are compatible with. I'm excited as an actress to tell the story."
Lowndes is also excited to share her voice on the show. Gia will get Adrianna to try out for the lead singer position in The Glorious Steinems, and all-girl band at West Beverly, and all the singing is done by Lowndes herself!
90210 returns March 9 (8 p.m. EST) on the CW.
---
Kommentarer
Trackback